Sector-wide events
EPRA seeks to bring forward a non-exhaustive list of real estate-related events, forums and exhibitions scheduled for the coming period. This is a tool to keep our members and industry stakeholders informed on the sector educational and networking opportunities.
Should you manage an event and wish to be listed on the EPRA's sector-wide events page, please send us the details at events@epra.com.

Coming Events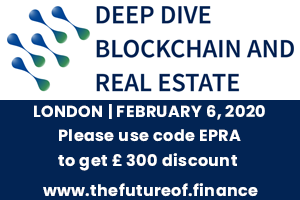 February 06, 2020
The future of real estate is one where registration and management is far more easily documented and managed, transactions more verifiable and transparant, investments become much more liquid, and much more available. These chances will be driven largely by blockchain technologies. Join this one-day programme which consists of a number of modules covering the various opportunities, possibilities and developments in relation to blockchain tech.