EPRA - Bayes Business School Online Programme
2022 October EDITION
Understanding the REIT price (An online programme dedicated to understanding the listed real estate market)
Following the success of the first course in March we are now open for registration for the second running of our 6-week online course with Bayes Business School, starting the week of 17th October 2022.
We will be taking a deep dive into what really drives REIT pricing, the mechanics of the buy-side and sell-side, specific investor requirements, valuation and price target models and a lot more. We will be highlighting key academic research concepts are highlighted by copious examples from the world of European-listed real estate. There will be pre-recorded lectures and a live webinar each Friday different expert practitioners will join.
What did people think of the last one? Here is as a flavour.
''I thoroughly enjoyed Understanding the REIT price. Alex was a superb tutor, going through detailed material meticulously and the guest speakers were thought-provoking, resulting in a great learning experience. I have now been on two REIT specific courses, and this wins hands down.''
Edward Jones, Analyst, Weybourne Ltd
The ''Understanding the REIT course'' was a great deep dive into REIT Analysis, with easily accessible online content and engaging weekly topics accentuated by a wide range of industry guest speakers who provided outstanding insight into the world of real estate investing, A particular highlight was the ''Portfolio Challenge'' in which class participants were able to monitor and analyse real like market movements which really aided in supplementing our learnings for the week.''
Patrick Rooney, Investment Analyst, Aventos Group, Berlin.
If you are interested in participating in future editions, contact us at ​​​​​​education@epra.com. Date & Place
Next edition : Starting in the week of October 17 2022
Online Programme content
Check the programme brochure of the October 2022 edition. Registration
---
EPRA - INSEAD Executive Programme
2023 EDITION
Strategy for Listed Real Estate
Following a successful second edition, held physically in June 2022 in Fontainebleau, EPRA is pleased to launch registrations for the third Executive Programme organised in partnership with INSEAD.
It is a unique, intensive course that covered the latest trends shaping the listed real estate sector post pandemic, such as thematic investing, e-commerce and logistics, digitalisation and data analytics. This in person programme will help participants develop effective business strategies to address challenges as well as identify opportunities for repositioning and future growth, especially in the context of the broader real estate industry.
This programme is an exclusive opportunity for our members, and EPRA is contributing 50% to the initial fee, bringing down the overall rate to EUR 2.200 (food & beverages included). An INSEAD certification will be provided upon completion of the whole course.
More recent information regarding the 2023 edition will come around February/March 2023. Date & place
20-22 June 2023, INSEAD Europe Campus, Fontainebleau, France Programme content
Check the programme brochure of the 2022 edition. The programme brochure of the 2023 edition will come soon. Registration
Register for the 2023 edition by filling up this short form.
Hear what participants of the first edition have to say about the programme!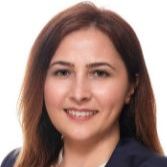 Dilek
Pekdemir
d.pekdemir@epra.com