Most of European LRE markets return to pre-Covid19 levels, with Belgium, Germany and Nordics leading the way
By Dilek Pekdemir, EPRA Research Manager
At the end of Q4 2021, the total value of the listed real estate sector in Developed Europe was EUR 532 billion, of which 67.2% is represented in the FTSE EPRA Nareit (FEN) Developed Europe Index. Germany has maintained its leading position with EUR 117 billion market capitalisation, followed by the UK (EUR 105 bln) and Sweden (EUR 96 bln).
European listed real estate markets continued to recover. The market size has grown in almost all European markets, with Sweden, the UK, Belgium and Norway seeing the highest quarterly growth. The listed real estate markets performed particularly better in Belgium and in Norway, while new companies were listed in the UK and Sweden, thus contributing to the market size growth. Compared to pre-Covid19 levels, all countries displayed recovery, with a relatively slower pace observed in France, Spain and Netherlands due to their heavy retail exposure that was strongly affected by the Covid-19 crisis.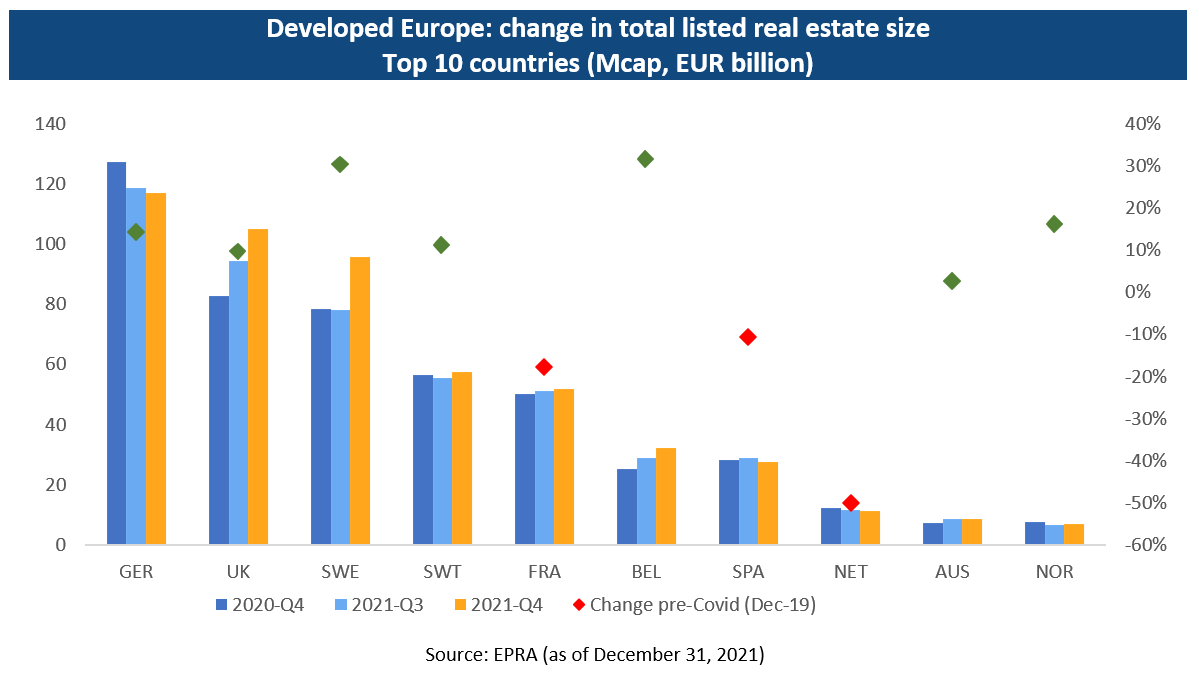 For more insights, consult the EPRA Global Real Estate Total Markets Table with updated Q4 2021 figures. The report includes an estimated value of the commercial real estate (CRE) using the latest available GDP figures and the total value of the listed real estate (LRE). It allows the comparison of the relative size of the CRE, LRE and EPRA index coverage, at regional and country levels.