European real estate developers: Benchmark evolution
By David Moreno, EPRA Indexes Manager
The listed real estate industry in Europe has been traditionally oriented towards pure rental activity. The introduction of REIT regimes in the 1990s and 2000s boosted the growth of the sector and helped it to navigate the difficulties of the Global Financial Crisis and the Eurozone debt crisis. For years, property development was considered closer to the construction industry and there were very few companies operating in this segment. Most of them were based in the UK and focused on home-building with no benchmark to be compared to. However, with time markets evolved, and there are now dozens of listed companies across the continent, specialised in both residential and commercial development.
Looking at this outstanding growth, in 2021 EPRA decided to create a research benchmark that could be used as the main reference for assessing the evolution of the sector. This initiative was supported by a working group composed by over ten representatives of the biggest listed developers and sell-side analysts, to guarantee the benchmark's relevance for all stakeholders, including investors, analysts, regulators and academics. After several months of work, the EPRA Developers Research Benchmark was launched in January this year with 29 constituents from ten different countries, representing a total of EUR 59.6 billion in free float market cap (see our press release here). Four months later, it was time to run the benchmark's first semi-annual review as well as for assessing its evolution and performance.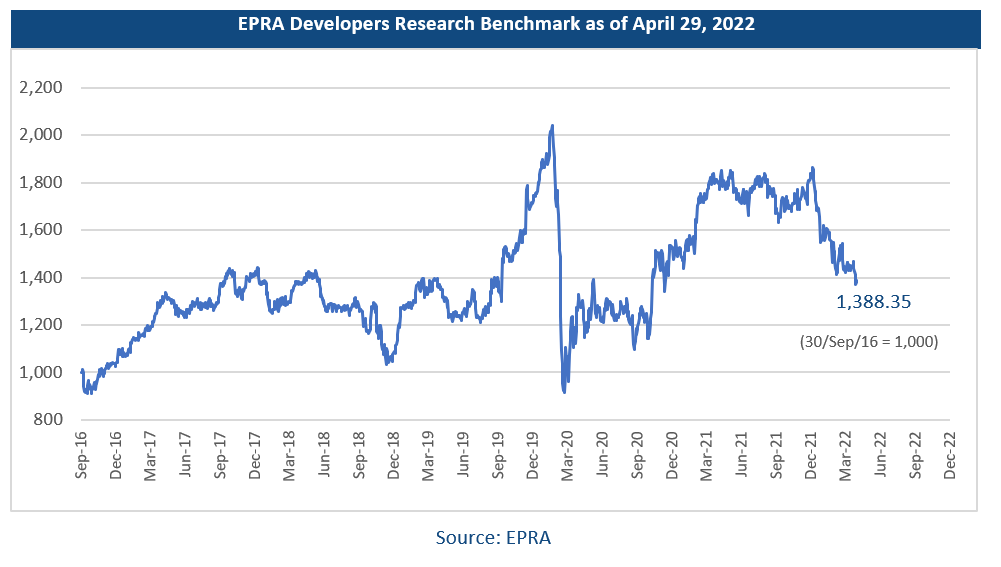 On the benchmark's management side, the semi-annual review brought only one change, the deletion of Bonava AB (Sweden, Residential) due to a size fail once its free float market cap dropped below the EUR 150 million threshold. On the performance side, following the general volatility observed this year in most financial markets, the EPRA Developers Research Benchmark lost -2.4% during April and reached a YTD correction of -22.9%, showing levels not observed since 2019. However, at the same time, these levels represent an interesting opportunity for many investors looking for an attractive medium- to long-term performance. The total annualised return since the starting date (Sep/2016) reached an average of 14.44%, with a standard deviation of 29.04%, implying a Sharpe ratio of 0.36, not far from the main listed property companies (0.41). Driven by a similar set of fundamentals, this real estate sub-sector makes for a valuable portfolio diversifier to keep in mind in the asset allocation process of several investors.