Senior housing and Healthcare Real Estate: From alternative to mainstream property sector
During the last week of June 2023, the Senior Housing and Healthcare Association (SHHA) hosted in Brussels its first Senior Housing and Healthcare Summit to celebrate its third anniversary after its establishment in 2020. This was an event co-hosted by the SHHA and EPRA that offered the attendees a great opportunity to explore and discuss some of the most important trends and initiatives influencing the sector. Several angles were covered during the summit, including the regulatory framework, new technologies and innovation, transformation of the business model and main economic and demographic trends.
Regarding these economic and demographic trends, some interesting facts were presented. First, in spite of all the evidence on aging population across the continent, the provision of care homes and senior living facilities has not evolved fast enough, therefore creating a significant mismatch between demand and supply. Second, most of the European markets remain highly fragmented, mainly due to regulatory and idiosyncratic differences across several territories.

Supply of care homes across Europe

Source: Savills and OECD (2019-2021).

Third, this property sector has historically provided attractive returns that called the attention of all types of stakeholders and such returns are expected to remain attractive in the long term. Fourth, several investors are eager to increase their allocations to this sector in the near future, although some important barriers need to be surpassed. Finally, ESG and sustainability are becoming the most important topics for all types of stake-holders in the sector. In the light of aforementioned fundamentals , REITs and listed property companies are playing an important role and have gradually become a key participant in the sector.
Investors expect to increase their allocation to Senior Housing & Healthcare



Source: Savills Research (68 respondents). Survey was run between 24th January 2023 and 10th February 2023.

Historically, the Healthcare sector did not have a representative weight in the FTSE EPRA Nareit Developed Europe Index, however the picture is changing. Ten years ago, there were only 3 healthcare specialists in the index, representing 0.58% of its total size, with a total free-float market capitalization of €595.7 million. Over time, the sector expanded to include 5 companies, accounting for a weight of 4.20% in the European index, and a total free-float market capitalization of €6,624 million. In addition, among the universe of constituents, besides the "pure" Healthcare specialists, there are a set of diversified companies, which also invest in the Healthcare sector. When considering those, the sector's weight increases to 5.5% of the FTSE EPRA Nareit Developed Europe Index, with a total free-float market cap of € 8,575.9 million. Furthermore, several companies in the residential sector are now implementing new projects focused on the senior living segment and few of them are 100% specialised in the social housing subsector, creating a successful combination of several senior living and healthcare facilities. To conclude, it is clear that Senior Housing & Healthcare is emerging as one of the property sectors attracting investors' attention given its strong long-term fundamentals.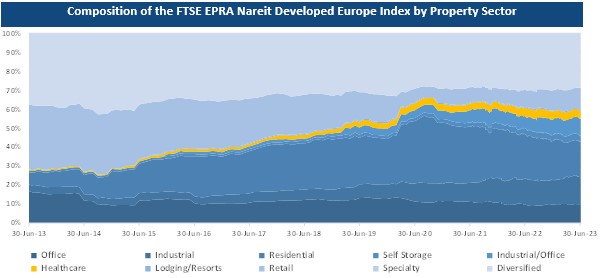 Source: EPRA (Data as of 30/06/2023).

Most of the European REITs investing in healthcare and senior housing real estate have very strong ESG credentials, with several projects having clear and direct social impact as well as strong performance in terms of environmental and governance indicators. In addition, the pandemic made evident the strategic importance of this sector for many policy makers and investors, therefore several analysts started covering many of the listed companies investing in the sector. As a result, the FTSE EPRA Nareit Developed Europe Healthcare Index provided a total return of 63.91% in EUR during the last 10 years, outperforming the overall index by 215 bps on an annualised basis. In addition, all the REITs investing in this sector are currently optimistic given a combination of strong demographic fundamentals, investors' appetite, governments' support, strong balance sheet and profitable business model.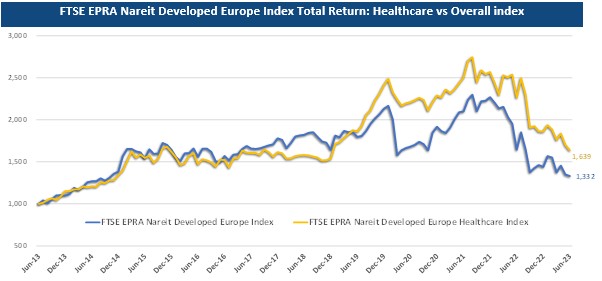 Source: EPRA (Data as of 30/06/2023).


According to Savills, in 2023, REITs became the fourth largest source of capital for investments in healthcare and senior housing real estate, and all the conditions are favourable for a further expansion. Therefore, healthcare REITs and senior housing landlords are positioning themselves as a new emergent sector that offers very interesting opportunities for investing in sustainable real estate, while providing a clear contribution to society, where listed property companies are already taking a leading position in this long term journey.
Check EPRA's website for more details on the SHHA Summit event: https://www.epra.com/events/epra-activities/senior-housing-healthcare-summit