EPRA - INSEAD Executive Programme
Strategy for Listed Real Estate - What Good Looks Like.
Held in partnership with INSEAD, the first Executive Programme took place in June 2021. It was an intensive course that covered the latest trends shaping the listed real estate sector, such as thematic investing, e-commerce and logistics, digitalisation and data analytics. The live-virtual programme was designed to help participants to develop effective business strategies to address challenges as well as identify opportunities for repositioning and future growth, especially in the context of the broader real estate industry.
It was an exclusive opportunity open to EPRA members and certification was provided upon completion of all modules.
Based on the success of this inaugural programme, another edition will be proposed in June 2022. More information below. 2022 edition
The next edition is scheduled for June 2022. For more information, contact education@epra.com. Pre-registration
Pre-register for the 2022 edition by filling up this short form. Programme content
Check the programme brochure from the 2021 edition.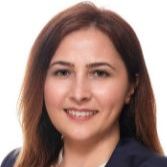 Dilek
Pekdemir
d.pekdemir@epra.com